Unwind with exercise and water play
Our sparkling indoor pool and fitness center offers fun for the whole family, rain or shine. Exercise and recreate in or out of the water using our exercise machines and equipment.
Note: There is no lifeguard on duty. Children must be accompanied by an adult.
Fitness Center & Open Swimming
Monday-Friday– 11am – 8pm (must be out of the building by 8pm)
Saturday- Sunday – 8am – 8pm (must be out of the building by 8pm)
Lap Only Swimming
Monday-Friday – 8 a.m.-9:30 a.m.
Self Directed Water aerobics
Monday-Friday – 9:30 a.m.-11 a.m.
Fees
Members – No Fee
Guests of Voyager Village Property Owners –
Accompanied guests are FREE up to 2 guests per member per day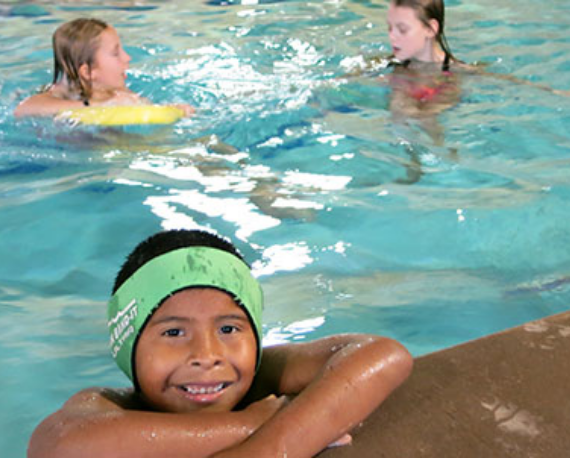 Features
60-foot pool with 3 lap lanes
Pool includes an accessible lift
Treadmills
Stationary bikes
Elliptical machine
Free weights
Sauna
Locker rooms with showers
TV in the fitness room
Location
The pool is located in our clubhouse in the heart of Voyager Village. Stop in the Golf Shop, the Grill, or the administration office to check in and receive a key.
Public
SWIM & FITNESS 
Individual – YEARLY $300 / 6 MO.$185 
Couple –       YEARLY $550 / 6 MO. $325 
Family –        YEARLY $650 / 6 MO. $400         
DAILY FEE    $6
CHILDREN 5 AND UNDER           FREE
Pool Parties
Celebrate a birthday or party with the kids! Bring a group to swim in our pool and enjoy pizza and soda afterwards in the Voyager Room. For details call 715-733-7006.